The timing of the exhibition Evin with Love1 at ISS fits in so well with what is going on in Iran at this moment. The outrage and bravery in Iran currently is distinctive in many ways:
1) Many call the movement a feminist movement, led by women who do not accept the deep humiliation inflicted on them by the Islamic Republic anymore;
2) Women are broadly supported by men and the movement is widespread;
3) There is a huge amount of solidarity from around the world;
4) Perhaps the most interesting aspect of the movement is its performative character. Women hang or burn their headscarves and dance around the fire. The songs of the movement are melodic and the lyrics are based on daily conversations. The most listened-to song of the movement around the world, Baraye2 has lyrics made up of tweets from ordinary people, all of which begin with the Persian word Baraye…meaning for. The song finds its strength in its grassroots simplicity.
 The exhibition Evin with Love was initiated in 2018 at Humanity House in The Hague and has since been travelling throughout Europe since. It showcases handicrafts made by women imprisoned in Evin Prison in Tehran. The stories and imaginaries connected to these handicrafts make them more than just objects. Each handicraft has a story to tell about the woman who made it – they tell stories of the struggle for justice, the love and passion of activism and the pain of facing injustice both inside and outside the prison's walls. But the handicrafts also tell stories that travel through time and space due to the untiring efforts and comradery of many around the world who have made it possible for the handicrafts to reach audiences beyond borders.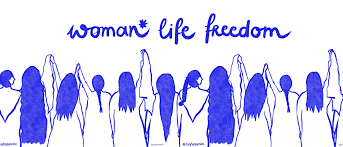 In order to understand and feel these stories, we need imagination to go back in time and space and become part of their journey. We need imagination to feel the history of the passion of Iranian women in their struggle for an equal world, their amazing sacrifices to go beyond individual gains and become part of a transnational women's movement. We need imagination to feel the pain and isolation of women in prison, who found the creativity to send us messages of perseverance through these handicrafts made with love. Imagine all the love, solidarity, and immense creativity that went into making these artifacts which are now travelling beyond both the thick walls of prisons and invisible walls of national borders. Through this journey we can understand why this current movement is Iran is happening and why women occupy a central position.
Try to extend your imagination as you look at these artifacts. By doing so, you will bring their history of courage, resistance, and struggle for justice and equality alive: one that connects their present bravery to the past decades of struggle of generations of women and men on the streets of Iran who fight to live and be free. Then we can also imagine the story behind the slogan: Zan, Zendegi, Azadi (Woman, Life, Freedom)! Through this power of imagination, we can connect worlds and then we can break the isolation, whether it be a prison or a national border. These handicrafts can become a symbol of the connectedness of struggles for a better world. 
And they do even more. 
When they reach us in democratic contexts such as the Netherlands, they remind us that the freedoms we enjoy did not come on their own; some have paid a high price for them. The work of these women reminds us not to take our freedom for granted, and to remember that we have a role to play. 
Do you feel powerless? I am often asked this question about the hopeful yet very violent situation in Iran. I do. But I also know that I have the power and resources to become the voice of the women in Iran and spread their message and share their struggle and pain. I can show their power and persistence to fight for justice and equality.
So, the final message of these handicrafts is for us to join hands and resources, which are essential for the continuity of valuable projects like this, and to support the struggle for justice and freedom in Iran in any way that we can. 
---
[1] Exhibition from Evin with Love, this project is initiated and organized by Mansoureh Shojaee (Iranian women activist, writer and researcher)- Video of the lecture.
[2] Videoclip Baraye